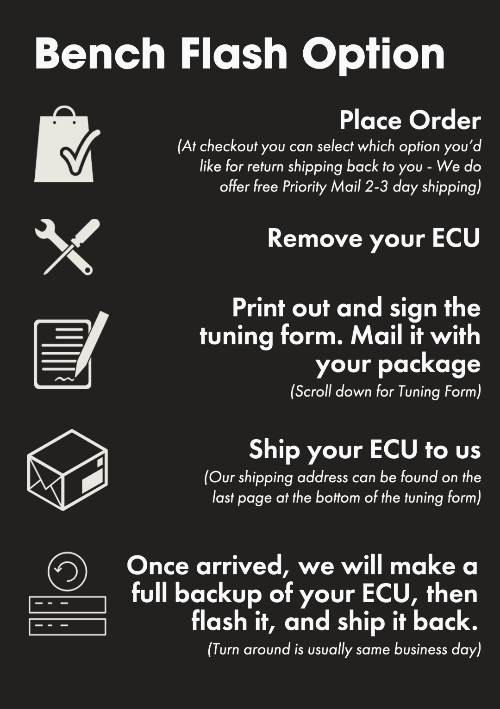 2014+ W205 C63 AMG Mercedes - M177 V8 BiTurbo Performance Tuning
Please print out this form and mail it in with your ECU. ECU will not be flashed until the form is filled out and sent to us. Thank you.
We do not offer tuning for emission delete, we do not disable catalytic converter or secondary air pump systems. 
We do not offer tuning services to the state of California.
This tune is for 4.0 AMG M177 Engine Mercedes Benz V8 Bi-Turbo
| | | | | | |
| --- | --- | --- | --- | --- | --- |
| AMG C 63 | 2014– | 3,982 cc (243.0 cu in) | Petrol | 476 PS (350 kW; 469 bhp) | 650 N⋅m (479 ft⋅lbf) |
| AMG C 63 S | 2014– | 3,982 cc (243.0 cu in) | Petrol | 510 PS (375 kW; 503 bhp) | 700 N⋅m (516 ft⋅lbf) |
Stage 1 tune: +96WHP @ 5800RPM +106WTQ @ 3000RPM wide range at the wheels.
Crank HP:
Stock: 469HP 479TQ
Stage 1: 580HP 600TQ
Tune Improvements:
Throttle Response
Boost Increase
Torque Management Improvement
HP and Torque Increase
Speed Limiter/Vmax increase* - in some cars this is controlled by CPC module and we cannot change speed limiter in those cases.
Crackles option to increase amount of crackles in Sport/Race mode. 
We have developed and tested this engine tuning on several M177 engines, including C63 AMG and AMG GT models on our Mainline ProHub5000 dyno. The results came out amazing. 
Performance tuning modifies torque limiter maps, boost levels, fuel maps, ignition timing advance maps and more. All to help safely increase HP/TQ, while keeping good drive-ability and factory fail-safes/limp protection in place. Factory emissions remain functional and are not disabled.
Gains can vary on vehicle condition and location.  AMG S and Performance models may have smaller gains due to high HP output from factory, but should results in the same HP/TQ output as base AMG models after being tuned. 
We have 2 methods of having this tune installed (Flash Type Selection).
BENCH: Remove the ECU and mail it in. We will create a full backup image of your ECU without opening the lid or any physical damage to the ECU at all. We then upload our tune and mail the ECU back. This is the safest way, as we can have a full backup of the entire ECU content.
REMOTE FLASH: No downtime!!! With this option, once an order is placed, we will ship you a cable, that cable connects to a laptop and we are able to remote into your computer to flash the car. The remote flash option includes the cost of the cable (which is yours to keep). If we are out of cables for remote flashing, we can offer a cable for rent with a deposit. (We will message you if this happens). In some cases, not all cars can be flashed this way. In that case, you will have to ship your ECU to us for a bench flash.

 

*You will need a Windows 8 or newer laptop and WIFI to flash remotely (Apple, Chromebooks are not supported)*
This product has no reviews yet.